Vipul Patel, MD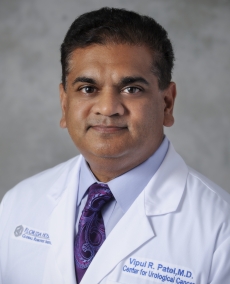 Vipul Patel, MD
Urology
Accepting new patients
Locations
Celebration
AdventHealth Global Robotics Institute
410 Celebration Place
Suite 200
Celebration, FL 34747
407-303-4673
Expertise
Biography
Vipul Patel, MD, FACS, is the director of the Global Robotics Institute at AdventHealth Celebration. He leads one of the world's most experienced robotic surgery teams and travels around the world to educate physicians and care for patients. He is the editor emeritus of The Journal of Robotic Surgery and editor of the first-ever robotic urology textbook. Dr. Patel is world-renowned for his contribution to the field of robotic surgery and is committed to personalized patient care and quality outcomes. He is one of the most experienced robotic surgeons in the world and has personally performed over 12,000 robotic prostatectomies.
In addition, Dr. Patel is the medical director of the AdventHealth Celebration Cancer Institute Urologic Oncology Program. He is a professor of urology at the University of Central Florida College of Medicine in Orlando, Florida, and a clinical associate professor of urology at Nova Southeastern University, also in Orlando. He is the founder of the International Prostate Cancer Foundation (IPCF) and a founding member of the Society of Robotic Surgery. He serves as an honorary professor at the University of Milan, Korea University and Ricardo Palma University in Lima, Peru, and was recently made an honorary professor of the Russian Academy of Science.
Awards & Recognition

Diabetes Association Father of the Year 2016, Dr. B. C. Roy National Award for Eminent Medical Person 2012-Present, Named Top 1% of Doctors Nationwide By Castle Connolly Medical 2009-2015, Orlando Magazine Top Doctor and Best Doctor 2013, Inducted as a Member of and Received an Honoris Causa Degree from the Russian Academy of Sciences (RAS) 2011, America's Top Urologists 2008, Orlando Business Journal Top 40 under 40 2008, Fellow of the American College of Surgeons 2008 
Differentiators

Dr. Vipul Patel is one of the most experienced urologic robotic surgeons in the world, having performed over 11,500 robotic prostatectomies. He has operated on patients from all 50 states and nearly 50 different countries. He has lectured all over the world and helped to start robotic programs in several different countries. He has served as an editor on four robotic textbooks, a contributor on over 20 textbooks, and has authored over 150 scientific articles.
Care Philosophy
Dr. Patel prides his practice on his commitment to personalized patient care and quality outcomes.
Education
Baylor College of Medicine
Fellowships
Miller School of Medicine - University of Miami
Residencies
University of Miami - Miller School of Medicine - Graduate Education
Board Certifications
Urology: The American Board of Urology