Nitzmari Melendez Vazquez, MD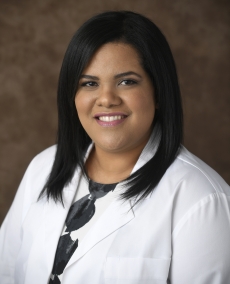 Nitzmari Melendez Vazquez, MD
Pediatric Neurology
Pediatrics
Accepting new patients
Locations
Orlando
615 E Princeton Street
Suite 540
Orlando, FL 32803
407-303-9980
Expertise
Biography
Nitzmari Melendez-Vazquez, MD, is a general neurologist who specializes in treating young patients with an array of neurological issues ranging from headaches to movement disorders, peripheral neuropathy, seizures and more. Prior to joining AdventHealth Medical Group, Dr. Melendez practiced at Augusta University Medical Center where she served as Neurology Chief Resident. She earned her medical degree at Ponce School of Medicine in Ponce, Puerto Rico, where she graduated with honors and was specially recognized for her clinical and academic achievement. Her research has included the study of rare immune diseases and infections affecting the central nervous system. 
Awards & Recognition

Second Place, Annual Convention of Puerto Rican Pediatric Society; second place, Americo Serra Scientific Meeting; third place, Eighth Annual Ponce School of Medicine Scientific Conference.
Differentiators

Headache specialist providing various treatment options for headaches and migraines including botox injections, nerve block injections and headache cocktails.
Care Philosophy
I focus on providing wholistic care by partnering with my patients and understanding their needs, hopes and expectations. 
Education
Ponce School of Medicine
Residencies
Ponce Regional Hospital