Mark Ranson, MD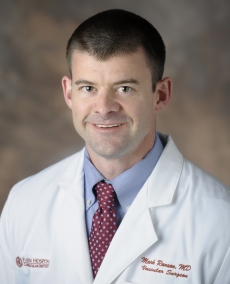 Mark Ranson, MD
General Surgery
Vascular Surgery
Accepting new patients
Locations
Expertise
Biography
Mark Ranson, MD, FACS, is a board-certified vascular surgeon specializing in the care of patients with arterial, abdominal aortic, and thoracic aneurysms; carotid artery disease; lower extremity pain and circulation disorders; leg artery blockages; and peripheral vascular disease. His access to the advanced diagnostic tools and capabilities of a thoroughly modern vascular laboratory is a great advantage to his patients at AdventHealth Medical Group's vascular surgery practice that is located right next door to AdventHealth Orlando. He provides surgical, minimally invasive and non-operative treatments tailored to each patient's specific condition and needs. Dr. Ranson is a graduate of the West Virginia School of Medicine in Morgantown and carried out his residency training at New Hanover Regional Medical Center in Wilmington, NC, prior to undergoing his advanced fellowship training in vascular and endovascular surgery at New York University School of Medicine.
Education
West Virginia University School Of Medicine
Fellowships
New York U. School of Med.
NYU Langone Medical Center
Residencies
General - New Hanover Memorial Hospital
New Hanover Regional Medical Center
Board Certifications
Vascular Surgery: The American Board of Surgery
Insurances
Note:- The list below is for reference purposes only and is subject to change. Please check with your health plan to confirm that Mark Ranson, MD is included before scheduling an appointment.