Irfan Munir Ahmed, MD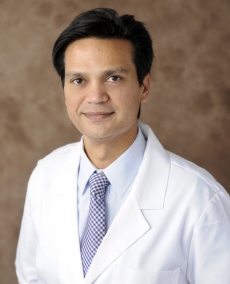 Irfan Munir Ahmed, MD
Radiation Oncology
Accepting new patients
Offers video visits
Locations
Expertise
Biography
Dr. Irfan Ahmed is a highly-experienced, board-certified radiation oncologist who specializes in providing advanced radiation therapy to treat all types of cancers, including brain, head and neck, thoracic and gastrointestinal malignancies. Dr. Ahmed completed medical school at the University of Mysore Medical College in Karnataka, India and fulfilled his residency at H. Lee Moffitt Cancer Center and Research Institute in Tampa. Also board certified in internal medicine, Dr. Ahmed practiced as a primary care physician for four years before beginning radiation oncology studies. He has been published in the International Journal of Radiation Oncology, Biology and Physics and was awarded a Research Travel Grant from the American Society for Radiation Oncology.
Residencies
University of South Florida - Graduate Education
UPMC McKeesport
Board Certifications
Radiation Oncology: The American Board of Radiology
Insurances
Note:- The list below is for reference purposes only and is subject to change. Please check with your health plan to confirm that Irfan Munir Ahmed, MD is included before scheduling an appointment.