Bobby Nibhanupudy, MD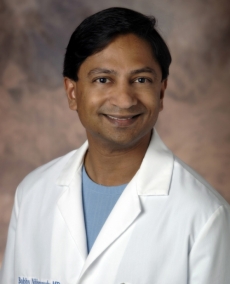 Bobby Nibhanupudy, MD
General Surgery
Accepting new patients
Locations
Orlando
2415 N Orange Avenue
Suite 700
Orlando, FL 32804
407-303-2474
Expertise
Biography
Dr. Bobby Nibhanupudy is a board-certified surgeon experienced in kidney and pancreas transplant and laparoscopic surgeries. He joined the AdventHealth Transplant Institute from the Kidney Transplant Program at Bert Fish Medical Center in New Smyrna Beach, where he served as Co-Director and Primary Transplant Surgeon. Formerly, he was an assistant professor of surgery in the Division of Transplantation at the University of Texas Southwestern Medical Center. Dr. Nibhanupudy performs operations and sees patients post-transplant to ensure proper healing is taking place.
Education
Howard University - Graduate Education
Residencies
General - UC San Diego Medical Center - Graduate Education
Fellowships
UC San Diego Medical Center - Graduate Education
Board Certifications
Surgery: The American Board of Surgery
Insurances
Note:- The list below is for reference purposes only and is subject to change. Please check with your health plan to confirm that Bobby Nibhanupudy, MD is included before scheduling an appointment.
AdventHealth Advantage Plan
Allegiance
Oscar Health