Afshin Forouzannia, MD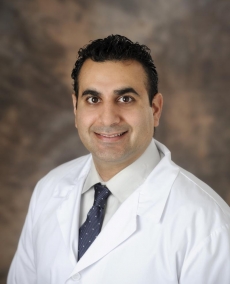 Afshin Forouzannia, MD
Radiation Oncology
Accepting new patients
Offers video visits
Locations
Expertise
Biography
Afshin Forouzannia, MD, is a board-certified radiation oncologist who specializes in treating patients with gynecologic, breast and prostate cancers. A recognized authority on brachytherapy (radiation therapy that is delivered internally so as to precisely target a cancer), Dr. Forouzannia provides stereotactic body radiation therapy, prostate interstitial brachytherapy, gynecologic intracavity and interstitial brachytherapy, intensity-modulated radiation therapy, intra-operational radiation therapy and image-guided radiation therapy. Patients with non-Hodgkin's lymphoma, head and neck cancers, lung cancers, lymphatic cancers and all other types of cancer are regularly referred to his care. Dr. Forouzannia is a graduate of Wayne State University School of Medicine in Detroit and undertook his residency training at the University of Wisconsin, where he served as Chief Resident.
Education
Wayne State University School of Medicine
Residencies
University of Wisconsin - Graduate Medical Education
Insurances
Note:- The list below is for reference purposes only and is subject to change. Please check with your health plan to confirm that Afshin Forouzannia, MD is included before scheduling an appointment.
AdventHealth Advantage Plan
Allegiance
Oscar Health